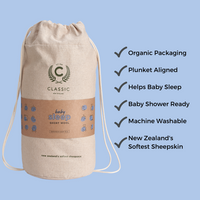 New Zealand's Softest Sheepskins
Soft, cosy and comforting, our short wool sheepskin rugs are ideal in baby's cot or
bassinet. Best slipped under the fitted sheet to promote a great night's sleep for your little one.
The Benefits of Sheepskin
SLEEP
The fine, natural wool fibres in sheepskin are cosy and soft, and help to regulate
body temperature and absorb moisture, which all helps baby to sleep longer.
NATURAL
Wool is a pure, natural fibre designed by Mother Nature. Our New Zealand sheepskins
are sourced from local farmers and tanned in our Napier facility using organic processes.
Colours: Natural White or Honey


Size:

L 80cm x W 55cm (Approximate)


Wool Length: 20-25mm

Machine Washable

Sanitized Chrome Free

No Harmful Chemicals

No Formaldehyde
Sheepskins in Cot's 
When using a sheepskin in a Cot for sleep we recommend the following advice from Plunket.
Plunket:
"If you want to use a sheepskin, use a short-hair type, and cover it with a sheet."
https://www.plunket.org.nz/caring-for-your-child/safe-sleep/making-your-childs-bedroom-safe/

For our baby sheepskins we also use a Sanitize treatment which prevents the ability for Dust Mite's to live in the sheepskin and this process remains in the sheepskin even after washing therefore helping prevent babies from developing Asthma.
Further information on this and a long-term study they conducted can be found at this link:
https://www.sanitized.com/hausstaubmilben-allergie-langzeitwirkung-von-sanitized-in-langzeitstudie-bestaetigt/
Cleaning
All our sheepskin baby rugs are machine washable and the wool can be easily spot cleaned. For more details on the cleaning instructions click here.
For more information on the benefits of sanitization click here.
For more details on the benefits of sheepskin for babies click here.
If gifting, these make a great gift on their own or purchase one of our beautiful 'Infant Care Gift Packs' which include an Infant Care Rug, Crochet Bootees and Toddler Boots all wrapped in a stylish gift box. Perfect for baby showers and new mums. 
For our Long Wool Play Baby Sheepskins please click here.